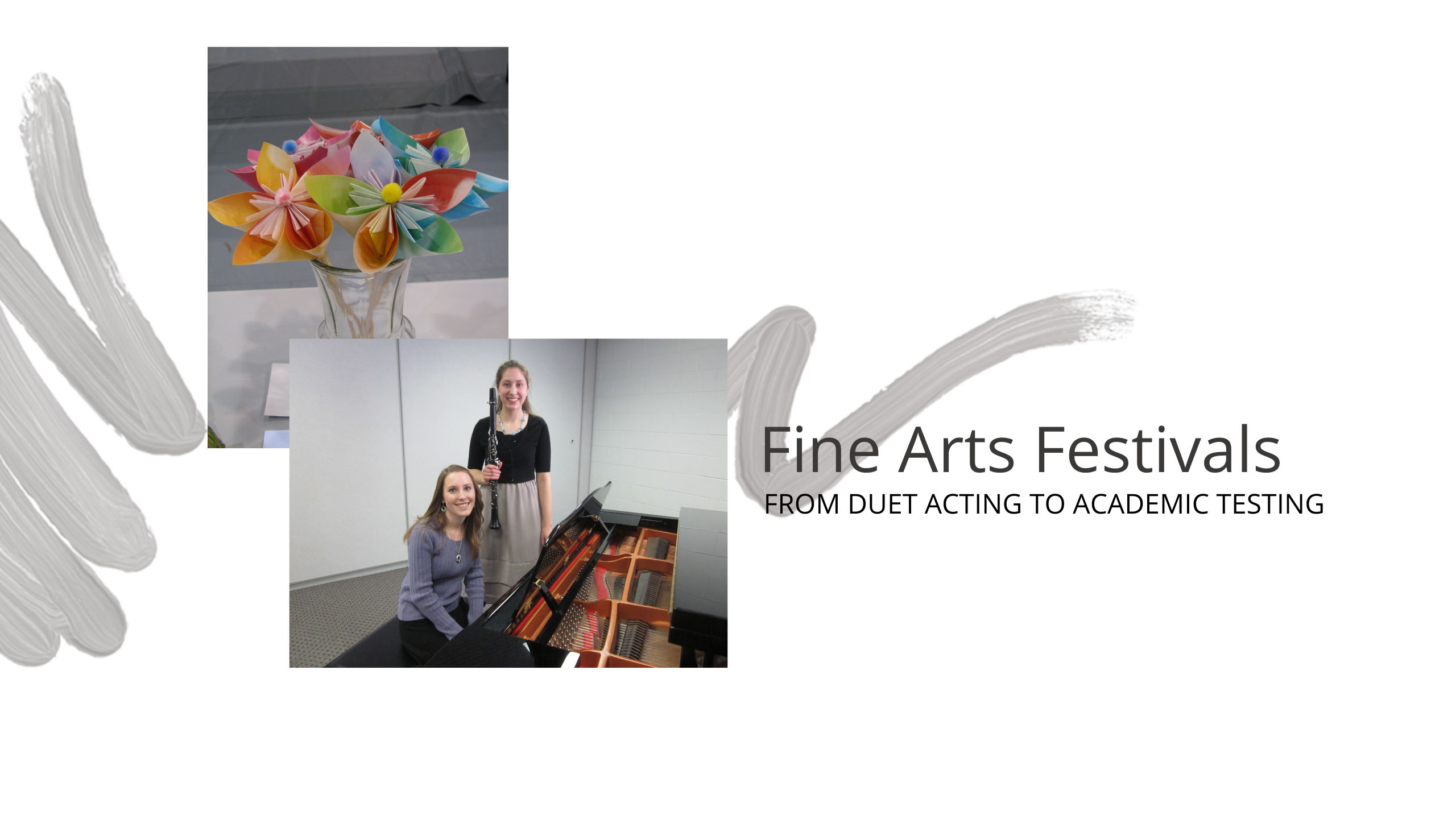 For many years the West Virginia Christian Education Association (WVCEA), affiliated with the American Association of Christian Schools, has graciously invited CHEWV members to participate in their Fine Arts Festivals. However, CHEWV is not a member of the AACS.  Therefore, our Senior High students are not eligible to advance to the National Competition at Bob Jones University.  
Nevertheless, we are graciously invited to participate at the state level, giving home schoolers an opportunity to improve talents and earn state-level commendation – which can be valuable on college applications.
Each student is critiqued and rated by at least two judges who have expertise in the area of entry.  The ratings are then averaged to determine whether the student will be given a Superior Award, an Excellent Award, or a rating.  At the Senior and Junior High Levels, 1st, 2nd, and 3rd places are also awarded.
When Are the Registration Deadlines?
Senior High – Registrations accepted January 5-19, 2024.
Junior High and Elementary – Registrations may be submitted from February 23rd – March 8th, 2024.
Who Can Participate?
Any CHEWV member student in grades 4th-12th.
There are 3 Festivals
4th – 6th Elementary
7th – 9th Junior High
9th – 12th Senior High
(9th graders can choose in which festival to participate.)
Where and When Are The Festivals?
Senior High: March 7-8, 2024, at Appalachian Bible College
Junior High and Elementary:  April 25-26, 2024, at Lewisburg Baptist Academy
What Can My Student Do?
There are 5 areas –
Bible
Academics
Speech
Music
Art
You can choose from many options under each of these areas.
A complete listing of the options and a synopsis for each choice is under Categories below. Please note that the categories for Junior High/Elementary levels are not as broad as for the Senior High. Students may participate in 6 (5 for Junior High/Elem.) events on the day of the Festivals, plus have 3 art entries and take 5 academic tests.
How Much Does It Cost?
Note: fees below are for 2023.
FOR INDIVIDUAL ENTRIES:
Per entry in each category – Bible, Speech, Music, or Art – $7.50
For example –
 1 – Speech entry $7.50
3 – Art entries 22.50
 Total $30.00
FOR GROUP ENTRIES:
2-6 students, 7.50 per student per entry
NOTE: there are no caps on entry fees this year.
*Once the coordinator submits the official registration to the WVCEA, fees are non-refundable. A $10.00 per student Late Cancellation Fee, as imposed by the WVCEA, will be billed by CHEWV for any cancellations after the Friday prior to the Festival or no-shows on the day of the Festival. Cancellations prior to the Friday before the Festival will not be charged a late fee.
How Do I Contact the Coordinator?
Kimberly Johnson is the coordinator and can be emailed at finearts@chewv.org.