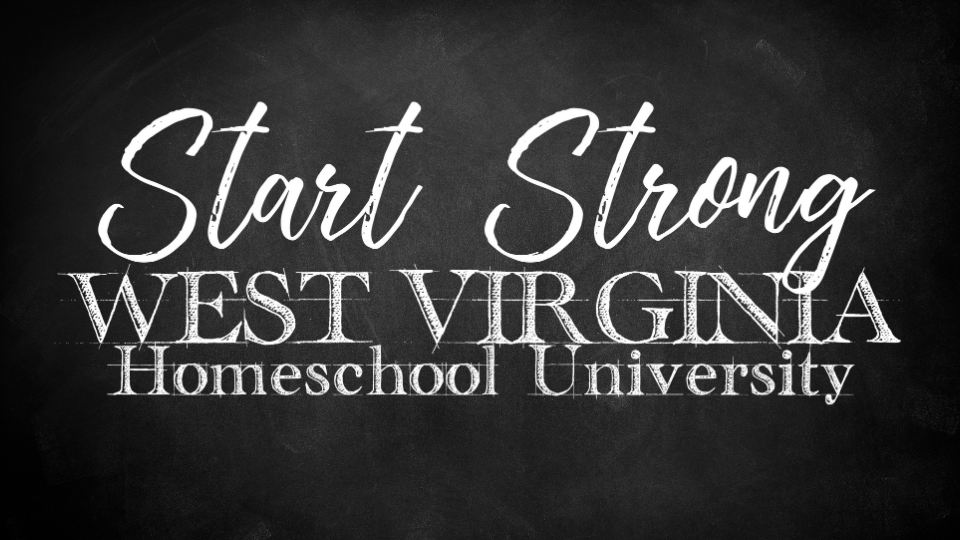 Are you a current CHEWV member?  Use the link in your Member Resources section to get 25% off!
Are you overwhelmed with the sheer amount of homeschool information?
Home education comes with a great deal of freedom and endless possibilities. Sometimes, the biggest challenge is simply where to begin.
Available now, our unique 14-day online course is designed to help new homeschoolers take flight. It includes videos, articles, and panel discussions with veteran homeschoolers who will walk you step-by-step through all the facets of successfully homeschooling your kids. You will love all the practical help and guidance. We've also included hours of bonus content to help you dig deeper into individual topics.
 NEW: Homeschool University 2.0 has launched with brand new content:
More videos

Expanded high school content

New and improved workbooks

Book recommendations

FREE printable encouragement mini-posters

FREE printable scripture cards

And more!
HOMESCHOOLING DOESN'T HAVE TO BE SCARY
We know the idea of homeschooling can be overwhelming, and your time is precious and must be used wisely. We've been helping WV families to teach their children at home for over 30 years – since the early days of the modern homeschool movement. We know West Virginia homeschooling, and we will help you take the guesswork out of what to do and where to start.
Did you know that homeschool laws are different across the country?
Your state's laws establish the rules and guideline for home education. Some states have great freedom, while others place families under a great deal of burdensome regulations. As your state's homeschool organization, CHEWV is here to help.
Our Two-Week Online Course Will Answer All Your Questions
The Start Strong West Virginia online course will not only help you navigate where to start, it will help your family flourish and thrive at home! Over the next two weeks:
✔   We will give you clear direction for how to teach your children at home – at any age.
✔   We will help you understand the homeschool laws in West Virginia.
✔   We will help you learn WHAT to teach your children, WHEN to teach your children, and HOW to teach your children from home.
✔   We will confirm that YOU are the most qualified person to teach your children.
✔   We will help you create not just a homeschool space, but an educational home.
✔   We will break it down so that you can choose the curriculum that will best fit your family, your lifestyle, and your children's learning style.
✔   You will develop your own educational philosophy and we'll teach you how to reach and exceed your long term education goals from preschool through high school.
✔   Your family relationships will grow and you will create a parenting legacy by taking it one day at a time and investing in your family.
✔   You'll have access to the nation's top homeschool leaders sharing their knowledge through video interviews.
✔   Your fears and anxieties about teaching a struggling learner or perhaps a strong-willed child will be put to rest as our experts help you navigate even the roughest waters and most challenging educational questions and concerns.
WHAT YOU'LL GET:
Two weeks of daily lessons with videos, articles, and even freebies!
The class starts right NOW and never ends – it's totally self-paced with lifetime access!
Day One: Understanding the Law
Day Two: Getting Started
Day Three: Choosing Curriculum & Learning Styles
Day Four: Testing, Evaluations, & Recordkeeping
Day Five: Educational Stages
Day Six: Academic Nuts & Bolts
Day Seven: Time Management
Day Eight: Parenting & Discipleship
Day Nine: Homeschooling Works
Day Ten: Homeschool Civics
Day Eleven: Navigating Homeschool Lingo
Day Twelve: Homeschool Myths
Day Thirteen: Developing a Long-Term Vision
Day Fourteen: Homeschool Parent & Professional Educator
Extra: Special Learners Day
BONUS CONTENT
Masterclass Interviews with nationally-recognized homeschool speakers and leaders
14-Day Course Workbook
Student Planners
Sample Transcripts
And more!
Available now!
Enroll today for only $79.