Do we still have to do them?
Yesterday the WV State DOE issued a statement strongly encouraging counties to accept homeschool testing results through December 31.  This should be a relief to any homeschool instructors who have 3rd, 5th, 8th or 11th graders and who are worried about meeting the June 30th deadline for submission. 
Still, CHEWV encourages you to turn in results as close to June 30th as possible.  While we are grateful for the support of the State DOE and Dr. Burch, they only provide guidance to counties. 
Homeschool requirements are legislated.  We homeschool according to the WV code, not according to the standards of the public school. The only way to change the homeschool code's requirements is to have a new law passed in one of the legislative sessions.  That is why we all have the privilege of talking with our legislators and weighing in before any changes can happen to the hard-earned homeschool statute.  What a blessing that things can't change willy-nilly! 
Remember, the fact that we homeschool according to state code is why you don't have to wait for the school's approval before homeschooling.  As long as you follow the requirements of the code, you are good. 
It's also why the requirements of the school system don't apply to you.  You don't have to school 180 days.  You don't have to take summers off.  You don't have to be vaccinated in order to educate your children.  And you can take Bible for a full credit if you want – and educate through a Biblical worldview. 
But, in this case, it also means that the public schools' testing requirements (or lack thereof this year) don't affect us directly.  In and of itself, they are superfluous. State code requires that we complete an annual assessment and submit the results for 3rd, 5th, 8th and 11th grades by June 30th.
The only real way to change that requirement is for the legislature to change the law, even if temporarily.  We have considered whether it's legally feasible or possible to get a waiver or extension from the governor.  However, homeschooling leadership, under advisement from our attorneys, have determined that the longterm risks of such a waiver outweigh any perceived benefit. 
Although the legal requirements, including the June 30th deadline, remain intact, the statement from the State DOE will help prepare the way for grace should families have difficulty meeting the deadline.
CHEWV, WVHEA and HSLDA continue to encourage you to pursue your annual assessments as always, taking advantage of the many alternatives that are now available. 
Who is Affected by the June 30th Deadline?
First, the deadline only applies to 3rd, 5th, 8th, and 11th graders.  The deadline is for when those grades must be submitted.
But for all other grades, assessments just need to be completed before the next school year begins.  Assessments are year-specific.  It's an annual assessment for each school year.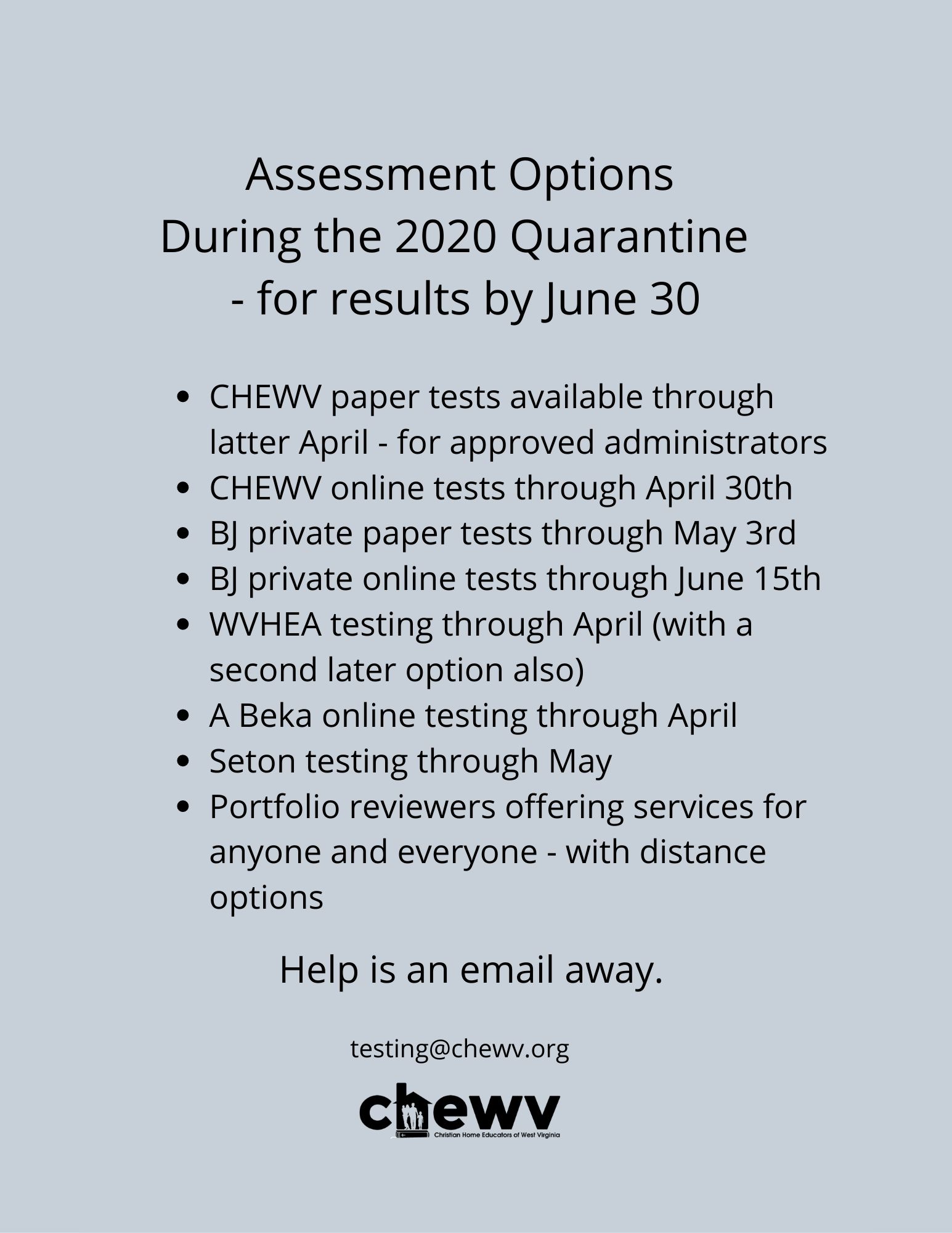 While we believe whole-heartedly that getting an assessment completed by June 30th is still very doable (see side box for options), this new statement means that we have less to worry about if testing takes longer.
What if You Try Your Best But Can't Get Your Assessment Results Submitted by June 30th?
We believe nearly everyone should be able to meet the deadline with all the gracious help we've already received from test suppliers and portfolio reviewers. But if that proves impossible or unreasonable under your circumstances (e.g. lack of internet access in your area), the statement from the State DOE should help with late submissions - at least of test scores.
If for some reason your county still doesn't show grace, tardy submission is not grounds for losing the right to homeschool. HSLDA has called the deadline "administrative." That doesn't mean we should take the deadline lightly - as such behavior invites greater homeschool regulation in the future. But it does mean we needn't stress.
If you are still concerned, we encourage you to contact testing@chewv.org. Let us know about your situation so that we can work with you. We assist all homeschoolers, whether or not you use our testing program. If you are an HSLDA member, contact them. That's why you join HSLDA - to have them in your corner in these types of situations.
SUMMARY
If your students are NOT in 3rd, 5th, 8th or 11th, make sure you assess this year, but don't stress over the June 30th deadline.
If you have a student in 3rd, 5th, 8th, or 11th grades, take advantage of online testing or portfolio review options - which can provide results to you in time to meet the June 30th submission deadline. With the ball moving in that direction, you are likely to meet the deadline or come close.
If you have a student in 3rd, 5th, 8th, or 11th grades and feel you honestly can't take advantage of the online testing options or portfolio review, please contact us (testing@chewv.org), WVHEA, or HSLDA for help and advice.
Finally, let's count our blessings! The WV homeschooling community has received solid support from the State DOE, state legislative leadership, HSLDA, and each other. In addition, testing suppliers, scoring services, and portfolio reviewers have all gone out of their way to offer alternatives. In the midst of a stressful situation, the wider community has been giving and generous.
Our legislated freedoms are worth the price of assessing - even if other students don't have to. Together, we will weather this storm.
6 Be anxious for nothing, but in everything by prayer and supplication, with thanksgiving, let your requests be made known to God; 7 and the peace of God, which surpasses all understanding, will guard your hearts and minds through Christ Jesus.  (Philippians 4:6-7)