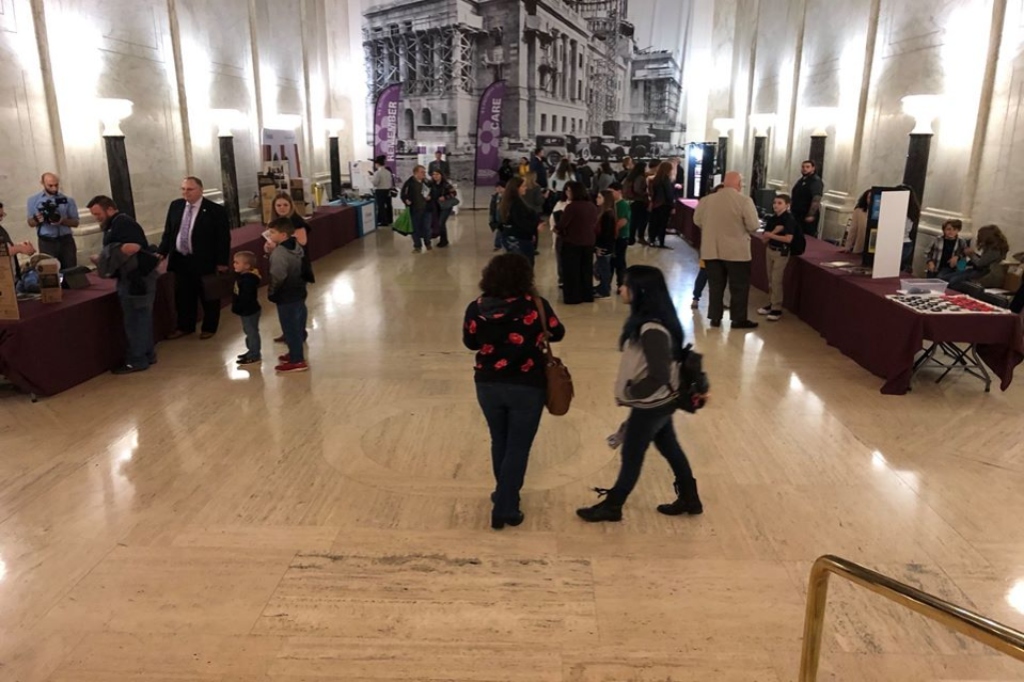 Put your best foot forward!  Since we are in a business setting, it is advantageous to dress in business-like attire.  This is a great opportunity to teach your children about voice level and professional manners.  When you meet with your representatives, it's a good idea to plan in advance a few specific, positive statements about homeschooling. It is likely that you will know more than your legislator about how homeschooling works. He/she may ask some of the typical questions about homeschooling. Be prepared to respectfully answer these questions with facts and experience.
Your representative may not agree with the educational choice you have made for your children – but remember the goal is to make a positive impression, not necessarily to change their opinion. Politeness and respect for him and his opinions will help encourage him to listen to you and your opinions.  Often, legislators will ask kids questions about how he or she likes homeschooling, or what he likes about homeschooling. You may want to practice possible scenarios at home to help your children know what to expect.
2023 S
c
h
e
du
l
e
of 
Ev
e
n
t
s
Note: Because this is a Capitol event, schedule changes could be required. Please check current schedule at sign-in.
A week or more before the event, you may want to contact your senator/delegate and make an appointment to meet together.
9:00 – 10:00 Sign in, receive information packets, set up homeschool-related displays
9:30 Capitol tours begin (Optional; sign up in advance. Space and times are limited.)
11:00 Legislative Sessions begin
Lunch on your own
12:00 Homeschool Rally in Upper Rotunda outside of House of Delegates
3:00 Displays may be removed
Current Capitol Security Policy – FAQs
How do we enter the West Virginia State Capitol?
The West Virginia State Capitol building, also known as the main building and Building 1 of the State Capitol Complex, operates limited public access points. Anyone without an electronic access card for this building must pass through an access point to enter.
Where will these access points be located?
The main access point will be at the west entrance to the building's West Wing, opposite the Culture Center. This is the Capitol's closest entrance to the metered public parking north of the West Virginia Veterans Memorial. It also the closest entrance to the new Bus Turnaround Loop, which is used by the Capitol parking shuttles. When the Legislature is in session, a second access point will operate at the east entrance of the East Wing, along California Avenue. That access point will be available starting Jan. 10, 2016. Both access point entrances are wheelchair accessible. Access point hours are Monday-Friday, 7:45 a.m. to 5:30 p.m.; Saturday, 10 a.m. to 5:30 p.m.; and Sunday and holidays, noon to 5:30 p.m. Access point hours will be adjusted when necessary to accommodate state government meetings.
What is the process for entering through an access point?
The directed public access point process is similar to that for other buildings on the State Capitol campus. All visitors will be screened for prohibited items at an access point. Visitors will be screened by a magnetometer, and will place items on their persons in provided containers for inspection. Briefcases, purses, backpacks, packages and the like will be screened by an X-ray machine.
Who must pass through an access point to enter the State Capitol?
Anyone without an electronic access card provided by the Division of Protective Services (Capitol Police) for the State Capitol (Building 1). That includes members of the public, people making deliveries, contractors, vendors, and media who do not have designated office space in the Capitol Press Room.
Why are the entry points limited?
The State Capitol is the seat of West Virginia's elected government. Representatives of all three branches – the Legislature, the Supreme Court, and the constitutional officers of the executive branch – have advocated for these reasonable measures to ensure the safety of state employees and the general public. The screening process is meant to uphold the existing prohibition of weapons, contraband and other materials that may be harmful to people or cause damage to property.
What will happen to the other entrances to the Capitol?
All other entrances to the main State Capitol building will remain locked electronically. Propping open these entrances will be strictly prohibited, as is allowing anyone to bypass an access point.
What constitutes a prohibited item?
Items are prohibited if it appears they pose a risk to people or property. Prohibited items include dangerous weapons as defined by §61-7-2 of the W.Va. State Code. This definition includes:
Blackjack or billy club-style weapon;
Various categories of knives;
Brass knuckle-type devices;
Firearms;
Drugs and controlled substances.
The definition is available online here. Other prohibited items include such defensive weapons as mace and pepper spray.
I have a permit to carry a concealed weapon. Can I carry a weapon into the State Capitol?
No. W.Va. Code §61-6-19 prohibits the carrying of weapons into the State Capitol building. That language is available online 
here.
Weapons may be carried by federal, state, or local law enforcement officers or security personnel who, because of the nature of their work, are duly authorized to possess a firearm while engaged in their official capacity.
What happens if I am found with a prohibited item during an access point screening?
You will not be allowed to enter the building with the item. Access point personnel will not store, confiscate or otherwise dispose of prohibited items; that will be the responsibility of the individual carrying them. Everyone subject to the access point screening process is urged to apply common sense and remain mindful of this policy before reaching the State Capitol Complex. Individuals should leave potentially prohibited items at home or in their vehicles, for instance.